System Administration FAQ
2. How Do I Set Up E-Mail Forwarding?

If the following information is not sufficent to configure the forwarding or further problems should arise, kindly write e-mail to: problems@math.fau.de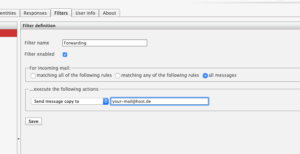 Restore old files
Stored data comes in form of snapshots. This means all data in .zfs/snapshot/snap-weekly-1-2013-08-10-030146 is read-only. Though it is possible to copy old files into your home.
cp /home/stud/.zfs/snapshot/snap-weekly-1-2013-08-10-030146/username/testfile  /home/stud/username/testfile_2013-08-10
alternatively:
cp /home/stud/.zfs/snapshot/snap-weekly-1-2013-08-10-030146/username/testfile  ~/testfile_2013-08-10
For staff:
cp /home/np1/staff/.snapshot/weekly.0/username/testfile  /home/np1/staff/username/testfile_1week_ago
alternatively:
 cp /home/np1/staff/.snapshot/weekly.0/username/testfile  ~/testfile_1week_ago
Tips
You can compare different versions of a file with diff:

diff testfile1 testfile2 |less

To redirect differences to a file:

diff testfile1 testfile2 > differences

The following example compares a file from your HOME directory to another file from the backup directory. diff compares files line by line; the output contains the differences:

diff /home/stud/.zfs/snapshot/snap-weekly-1-2013-08-10-030146/username/testdatei1 ~/testdatei2 |less

How to create a symbolic link in your home directory:

ln -s /home/stud/.zfs/snapshot/snap-weekly-latest/username backup-snap-daily