Humboldt-Professorship
Activities
Please visit further our page CAA-AvH where you will find the latest news about the activities at the chair.
Interview with Prof. Dr. Enrique Zuazua
Prof. Dr. Enrique Zuazua, the winner of a Alexander von Humboldt-Professorship, was interview by the FAU magazin "alexander". Read the interview Light on the dark side of the moon
News about the award to Prof. Enrique Zuazua
Information about the Award Winner Enrique Zuazua
Enrique Zuazua receives Humboldt professorship
New Humboldt Professorship for FAU
Prize ceremony and speach
The President of the Humboldt Foundation (AvH), Hans Christian Pape, awarded the prize during a ceremony on 9 May in Berlin. Zuazua is the fifth Humboldt professor at FAU.
Download Professor Zuazua's speech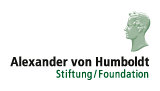 Unterstützt von / supported by